03.23.10
This is a year for branching out and trying new teaching formats.
Last summer, I did a two-week long workshop at the Penland School of Crafts, which was loads of fun, and let me have enough time with the students for them to actually get used to the cameras, play with subjects and techniques, and really create some work.
Trying to bring that experience to more students, I taught a four-week class at Photographic Center Northwest last month; 4 Tuesday evenings to play with Holgas and lots of time to review the work. In the end, even 4 weeks wasn't enough, but it was a great start for the students to really learn what the cameras do, try out different ways of shooting in a variety of circumstances, and even experiment with different films.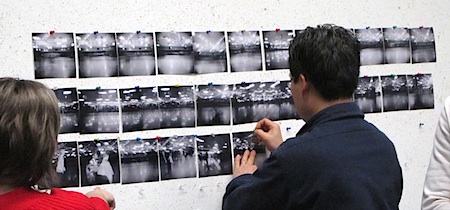 Students at the Photographic Center NW class put up their images for critique
In January I did my intro toy camera class at Newspace Photo in Portland once again, and we're introducing an Advanced Toy Camera class in May. This will be a great opportunity to dive into camera modifications, play with other cameras (including the instant backs!), and really get into the advanced darkroom techniques that toy camera negatives often call for.
At the Society for Photographic Education National Conference in Philadelphia, I had over 150 people at my presentation, showing off the work of many fabulous photographers working with plastic cameras, including several who will be in the second edition of my book! It was a great time and I heard from people the rest of the weekend who were inspired by all the great work! A video of the talk will hopefully be available at some point.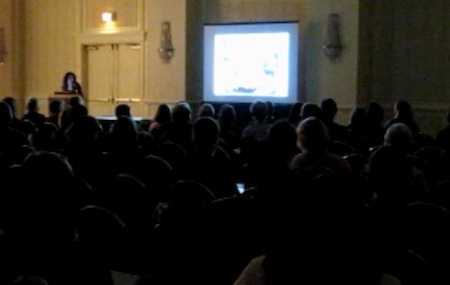 Part of the huge crowd at the SPE talk, which was sponsored by Freestyle Photographic Supply
I'm in discussions with PCNW to try even more new formats, and the new Workshops West in Pismo Beach, CA, and Project Basho in Philadelphia, about bringing the toy camera love to even more places around the country!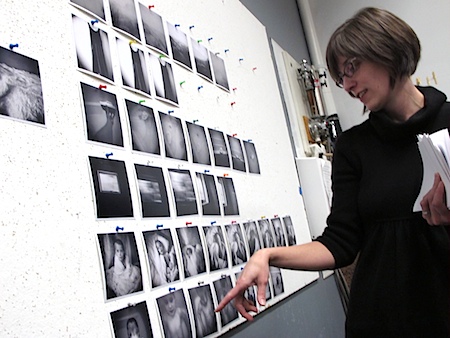 Students at the Photographic Center NW class put up their images for critique
~Michelle