10.08.09
The last weekend of September, I once again drove down to Portland, Oregon, this time with a van full of photographs, hanging tools, and other show paraphernalia.
I went early, to check out Alberta Last Thursday, which is an art walk crossed with a street fair, in Portland style. They close down the whole street from 7 til 10 or 11, and it's full of booths, performers, people hanging out, the whole scene. And it was one of the last beautiful warm nights of summer.
On Saturday, with the help of one of my Penland students, who recently moved to Portland, I hung my new exhibition at Camerawork Gallery. And later that afternoon, we had the opening. Camerawork is a fascinating little gallery. It's the oldest photo gallery in the country, started around 1970 by Minor White, to show work by the students he was teaching in Portland. Part of this is on the gallery website, but also, a man named Eugene Lee stopped by while we were hanging the show, and then came back during the opening, and he was one of those students. Fascinating to hear his stories of those days, and of studying with a master.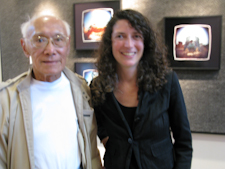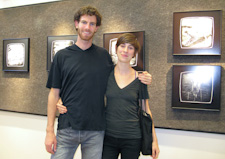 Eugene Lee, who showed at Camerawork Gallery over 30 years ago. Ian Dobson & Julia
The show is a combination of old and new for me. A black and white series of classic images, near and dear to me, and new to most of the people who've been coming in. On the other wall is a brand new series, taken last summer, of a bizarre spot I was directed to in Israel last summer. In this otherwise barren field, the remains of a collection of parade floats slowly decay. Colorful, full of artist beauty, yet crumbling and sad… It's a strange place, but I'm in love with the photos, and can't wait to go back another time.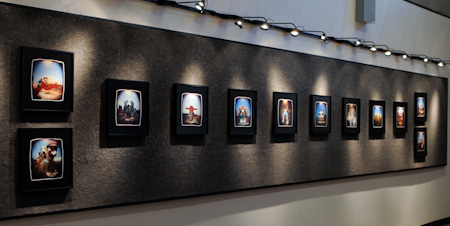 The opening was very fun, with friends, photography folks, and Camerawork regulars coming in. I wish I could spend more time hanging out in the gallery while the show is up!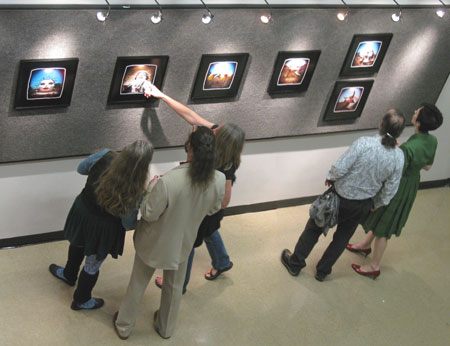 Hurray for Portland!
~Michelle