09.14.09
This past weekend I had a full complement of circusy fun on the road in Oregon. Two days included a New Old Time Chautauqua performance, a killer benefit for Portland's Circus Project and the classy Cirque de la Symphonie. Awesome!
NEW OLD TIME CHAUTAUQUA in McMINNVILLE
Starting off, I trekked down to McMinnville, Oregon to meet up with the New Old time Chautauqua. It was a lovely little reunion of some of the tour folks from this summer with other old-time Chautauquans. We roved through a little town park, did our parade (yes, I played my clarinet) and two half-hour shows in the September heat.
CIRCUS PROJECT *ANIMARE*
The Circus Project, started by my dear friend Jenn Cohen, wowed everybody who was lucky enough to attend the Animare benefit night on Saturday at Disjecta in Portland. The night was long and the weather hot, but I've never been to an event so well designed, that kept everyone happy, entertained, engaged, and reached their fundraising goals.
We started off outside with a performance by the Sprockettes, the audience happily lounging on comfy couches.
Inside was a silent auction as well as gallery shows, one up in Disjecta's gallery, and my showing of photographs of aerial performers from the Moisture Festival, as well as Solstice Parade photos made with my Holga camera.
The night of performances featured several sections, each with one of Portland's best circus acts (Kazum, Bellini Twins, Nanda & March Forth Marching Band), and one of the Circus Project's graduates premiering their pieces. Each of the Circus Project acts blew the audience away, not just because we knew they've only been working on these acts for 8 months (or, in one case, two), but because all three acts were superb and the performers confident and beautiful. Jenn was the proud leader of the group, but the magic was in seeing the students shine, and hearing their stories in the video (produced by one of them) that left not a dry eye in the house.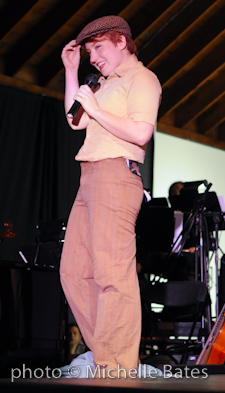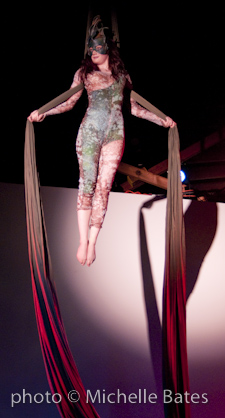 Nicolette Render, Jessica Dennis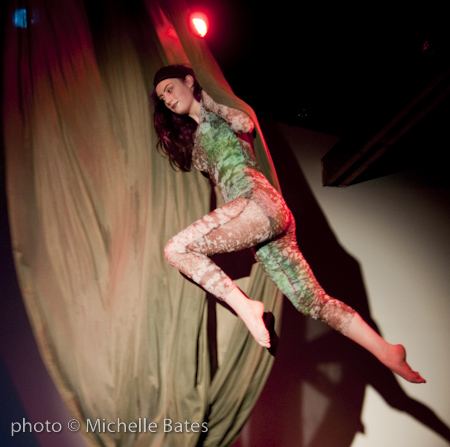 Jessica Dennis
This project, which teaches circus arts to homeless and at-risk youth, brings together several elements that create magic: use of the arts to give people focus for their energies, the caring of a dedicated mentor, the opportunity to perform for their communities (and eventually, for money), and accountability to earn their place in the group. Circus Project is a non-profit organization which is looking for a new home to host aerial and circus arts classes in Portland, and can always use financial and other assistance. See www.circusproject.org for more information.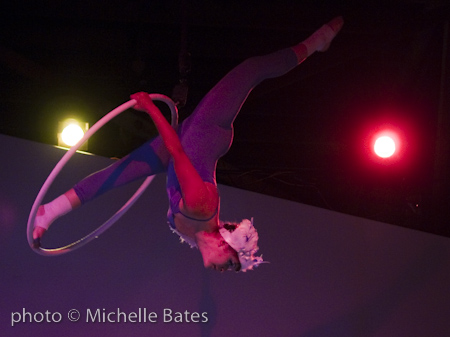 Petra de la Rocha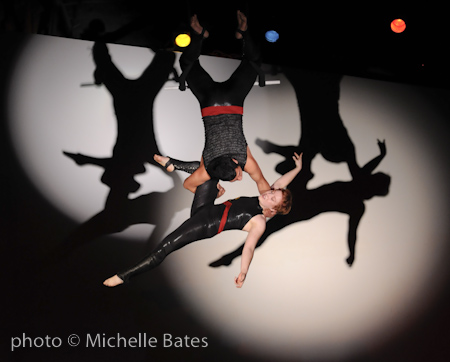 Aaron Guerrero & Nicolette Render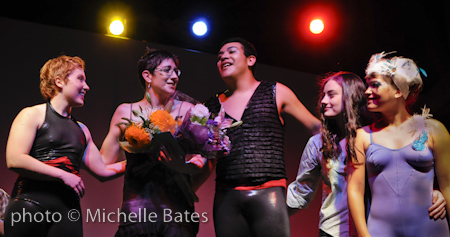 Jenn Cohen & the Circus Project graduates
As the crowning glory of the weekend, the Circus Project and a few of us who volunteered were treated to free tickets to Cirque de la Symphonie. I love the melding of worlds, and seeing the aerialists twirling away high over the symphony orchestra and the clown messing with the conductor just made me smile.
Another fabulous Portland weekend down.
~Michelle