09.19.12
I started this post many months ago (OK, January), and while the events may have happened quite a while ago, I like what I shared here, so, a bit late, here it is…
For quite a while I've been reporting on my travels, workshops, exhibitions and other photo fun on this blog. I've gotten a little behind, and might not try to cover every event in the future – we'll see how it goes…
So what have I been up to? This past fall I did some international travel; a combination of visiting friends and family, photographing (especially on beautiful Inish Mor), and bringing my toy camera show on the road. I spoke to two classes in Dublin, Ireland, and had a great time showing them cameras, images, and offering inspiration. I asked the teacher I worked with there for some words about the experience:
Today, we were privileged in Griffith College to be Michelle's first international audience for her one of renowned talks on plastic cameras. The passion Michelle has for the world of Holga and beyond is infectious. Numerous students (and ..ahem staff) could be heard uttering the words, "that's on my Christmas list" after we were wowed with images that spanned all genres of photography taken on the simplest of devices. The images Michelle showed were mesmerizing and dreamlike and filled with creativity. Newcomers to the medium fell in love at first sight and for the rest of us ignition sparks could be seen as passions were relit. It takes a special kind of skill to not only know your subject well, but communicate it, engage an audience and inspire, Michelle has this in bucket loads. Thoroughly enjoyable!
Sinéad Murphy
Photography Course Director
Griffith College Dublin, Ireland
Of course, that felt great! When I got back, I did my yearly pilgrimage to PhotoPlus Expo in New York, which is always a great time to catch up with Focal Press, my publisher, and Freestyle Photographic, whose advisory board I'm on, as well as the New York photo scene and everyone who comes into town. I've been going since 1991, and always enjoy it.
Back in Washington, I gave a presentation at the Society for Photographic Education's NW regional conference in Spokane. I spoke at this event, nearby in Pullman, in 2005, and it's amazing to think about all that has happened since then. I know I've become a better speaker – I've had lots of practice!
And the following week in Seattle I had the honor and pleasure of speaking at TEDxRainier, a day-long event with 30 speakers on a huge range of topics, 700 people in the audience and many more watching online. I love speaking to photo audiences (I can really geek out on the technical stuff), but I also love general audiences; I can wow them with the a wide range of images and amaze them with the idea that something that low-tech can create something so beautiful. This was a great audience, and now I have the video, available for all to see as well. TEDx is a great thing (as is TED, its parent); I helped out in 2010, spoke in 2011, and I imagine will be involved again in 2012.
The rest of this winter has been focused on a massive organization of my images. I started shooting in 1991, and have amassed a huge number of rolls of film, contact sheets, prints, and digital files. With the help of my fabulous intern, Fiona Shearer (who I met at SPENW 2010), I've made some order from the madness, in the meantime putting my hands on almost every image I've ever made. It's incredibly satisfying, and I hope will lead to streamlined workflow in the future, and more time and space for making new images. I'm building a darkroom; I've always had the gear, but the spaces come and go. I'm looking forward to some play time in my new space, without having to watch the clock. And I'm doing some plotting: hopefully some teaching in Australia, revamping my website, constantly organizing my office and many other things.
One more topic; I know I talk more about my Holga world here, but I spend a lot of time photographing live performance, especially physical theater, circus, vaudeville, etc. In 1996, my first promo shoot was for Kevin Joyce, who was creating a new solo piece called "A Pale and Lovely Place." One images from that shoot has continued to be iconic for both of us. He remounted the show in December at West of Lenin in Seattle, and I made big prints of those images for the lobby, using the original negatives – so satisfying! I also did production shots, and got this note from the lighting designer/producer/theater owner:
These are so amazingly beautiful, I want to cry.

No. Seriously. No one has ever made my lighting look so wonderful!

THANK YOU!!!

-AJ Epstein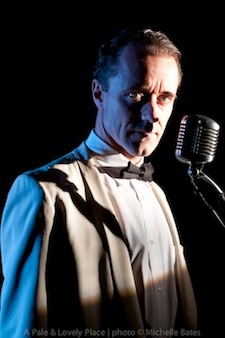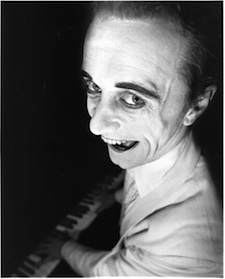 Kevin Joyce in "A Pale and Lovely Place" in 2010 and 1996
I continue to grow and learn in my field, both in my skills as a photographer, business person, marketer, teacher, and speaker, and it's incredibly gratifying to work with people over many years, and meet new ones, and get great feedback on what I'm doing. It's a pleasure meeting the many photographers, performers and others in my travels.
Happy new year to all, and I hope to see you on the road,
Michelle