08.04.11
After spending a month in March and April in Seattle, mostly spent photographing the Moisture Festival, I hit the road again, this time in my little van, with my collection of toy cameras, books and lots of film.
First stop was San Francisco to teach a workshop at Rayko Photo, which was featuring their huge Plastic Camera Show. As one of the guest artists, I had a mini show of my own in the midst of the exhibition.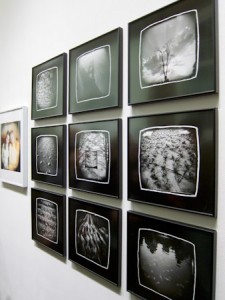 Moving south, I hit PDN's 30 Under 30 exhibition at The Icon in Los Angeles, where the Holga Inspire exhibition was in March. It was a treat to make it to one event as part of MOPLA, and see Hossein Farmani, head of the Lucie Foundation.
And heading into the heat of the Southwest, I ended up in Tucson, to be part of ArtsEye Gallery's Curious Camera exhibition. They really take their toy cameras seriously there, and in fact I was greeted on entering by the BIGGEST Holga anyone's ever seen!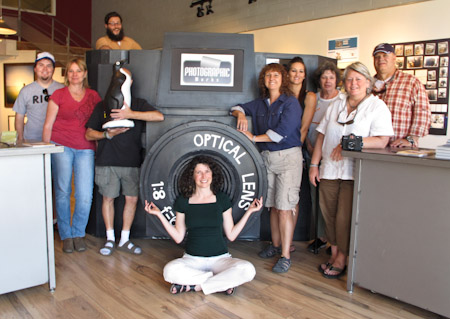 My class with the World's Biggest Holga, JP (top), its creator, and Mary Findysz (blue shirt)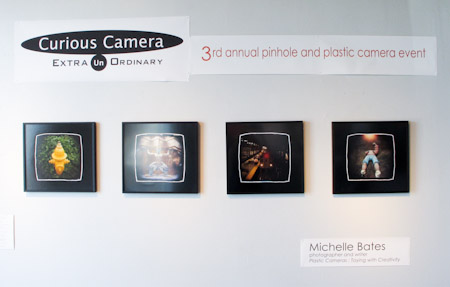 A few of my photos
The workshop was great fun – a full house of students, staff of Photographic Works, and owner Mary Findysz. Tucson has a lively photo community and they were wonderful hosts – I had a great visit!
Heading east from Arizona, I spent a week with a friend in the Jemez Mountains hanging out with wild turkeys, beavers and other critters. And, finally shifting into real road-trip mode, I turned northwest, into the glorious state of Utah. Just getting from one place to another took me through mind-boggling scenery and topography, like the Moki Dugway (impossible to photograph and impossible to forget…). The stops were equally amazing and satisfying. I finally got to explore Capitol Reef National Park off the main road, in all its bizarre glory. And stops in Kodachrome Basin State Park and Bryce Canyon were fabulous fodder for my Holgas as well.
Heading north towards home, I stopped in Eureka, Nevada to visit photographer Deon Reynolds. It's fun knowing people in bizarre out-of-the-way places. Great excuses to explore the country!
And finally, I traveled through Eastern Oregon, which I love dearly, on a particularly spectacular day, with the most intense hailstorm I've ever been in, and gorgeous dramatic clouds highlighting the landscape.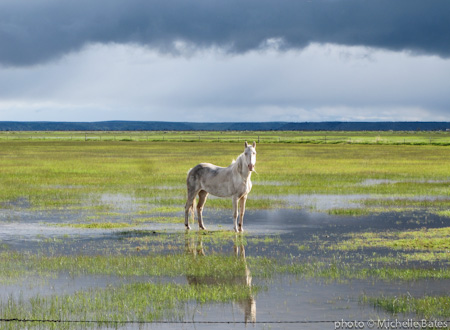 Flooded Field & Horse in Eastern Oregon
And I finally made it back to a place I've never forgotten since my first visit in 1997 – Round Barn.
It was a perfect combination of teaching, visiting with friends, old places and newly discovered ones; groups and solo time; and exploring with my van and Holgas. Hurray for road trips!
~Michelle