06.27.11
March was a busy month for my photographs, which were hanging in New York, San Francisco and Los Angeles, with openings all in the same week! The one I actually made it to was in New York, where I had the great honor of having a solo exhibition at Soho Photo Gallery in conjunction with the venerable Krappy Kamera show. This is the oldest and largest of the toy camera shows, and includes an international juried show and a show of work by members of the gallery. I was invited as a guest artist to fill the upstairs gallery, which until now has been the Salon de refuses – a salon-style showing of all the submitted prints that weren't accepted into the exhibition. I've had images in the main show (in fact, my monkey photo won first prize in 2009!) and also lots of prints in the salon. This year, however, I hung 32 framed prints, including some that had been tacked to the walls among the multitudes in years past – that made me laugh!
In trying to decide what to exhibit for such a large show, I came upon the realization that 2011 marks 20 years that I've been shooting with Holgas. This gave me the chance to curate a show that was a survey of the imagery I've created since 1991, when I first picked up a Holga at the Maine Photographic Workshops (now Maine Media Workshops). I called the collection "20 Years of Toying with Creativity" and hung the first photos I made in 1991, as well as band new work from this winter. Having the show in New York made it even more special, as my family, friends from MPW, and even a college friend who first told me about Maine Photo came to the opening. Rounding it out, many photographers who are in my book, including Mary Ann Lynch, my editor and all-around supporter, came out for the events.
I arrived in NY a few days before the opening and hung the show as a team of gallery members put up the huge show below. On Tuesday, March 1st, the gallery filled up with toy camera photographers and aficionados for a lively opening. And on Sunday, I came back to give a talk about my work, the history of these cameras, and who's doing what with them. We had a lovely crowd for the talk, and walk around both exhibitions afterward.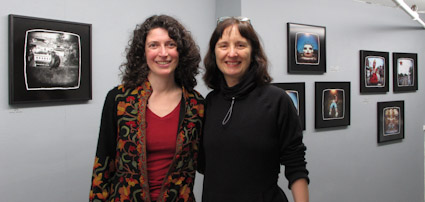 Me with Sandra Carrion, member of Soho Photo Gallery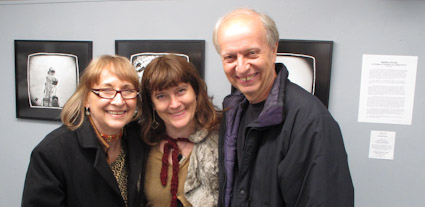 "Plastic Cameras" contributors Mary Ann Lynch, Anne Arden McDonald & Harvey Stein
I moved on to Atlanta for the Society for Photographic Education's national conference, which was a treat, as always. I snuck in a little exploration of Atlanta, including the Center for Puppetry Arts and the Atlanta Zoo.