01.07.10
Back in March, during the Moisture Festival (Seattle's fabulous vaudeville/variete festival), I did a photo shoot with a group called the Flaming Idiots. They were reuniting after 5 years apart, debuting at the Moisture Fest, where I also shot them live, in preparation for a run at the New Victory Theater in Times Square, New York City. I've been checking out the New Vic's website and enjoying seeing the photos there, and looking forward to getting copies of the program and flyers. What I didn't expect though, was a call from one of the Idiots, Rob Williams, telling me there was a 15′ x 60′ banner right on 42nd Street (off 7th Ave) with a dozen of my photos all over it! I saw some snapshots of the banner, but in the end couldn't resist the temptation, and trekked to NYC for a few days to check it out, see the show, and do all that other good NY stuff.
It was a pleasure to work with the Flaming Idiots, and I'm so glad I got to see their show!
Here are some photos of the banner: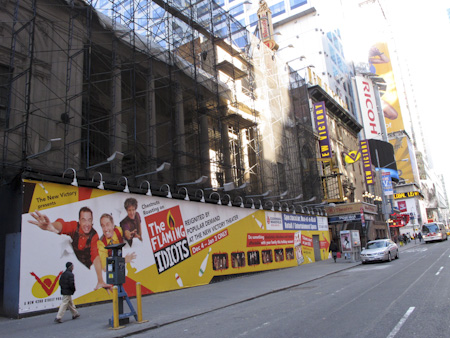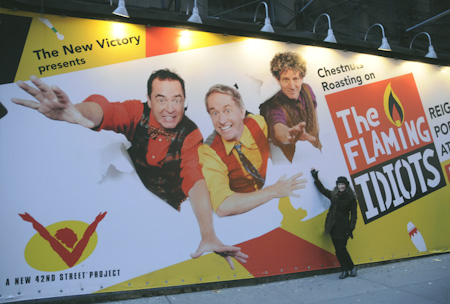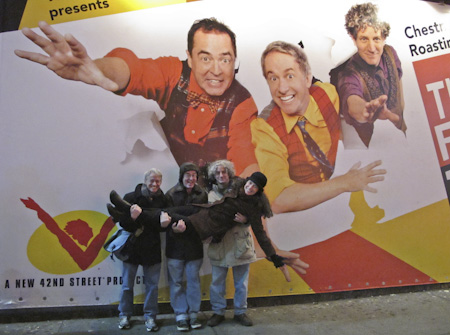 Me and the boys: Rob Williams, Kevin Hunt & Jon O'Conner

For more photos, showing the other end of the banner and the live shots, look here.
~Michelle