08.18.09
Week 1 at Penland School of Crafts
I had never heard of Penland School of Crafts before I was invited to teach here (actually, I've since been told that I did have a brief conversation about it with the person who subsequently recommended me to teach here, but, um, I don't remember it…). It took me a while to find anyone in Seattle who had heard of it, but once I did, I only heard great things about it. So, last August, I committed to teaching a two-week class here, and after all my recent travels, found my way across the country to the mountains of western North Carolina.
Penland is an old place, started in the 1920s, with a broad collection of studios and classes: glass, clay, metals, textiles, painting, drawing, printmaking, letterpress, woodworking, etc. This session also has an encaustics class, belt-buckle making, sculptural animals, glass flameworking (in addition to hot-shop), velvet weaving, etc. We are the only photo class, in the real old-style darkroom! The class is based around the Holga, but also is turning out to be photo and darkroom 101, since all my students (except my studio assistant) are beginners.
The first week has been intense. In fact, it's been a lot like my week teaching in Maine last year, but the difference here is that instead of leaving, now we have another whole week to go!
The first day was my standard one-day or first day; showing slides of work by bunches of people and talking about the different things you can do with a Holga. Then taping up and getting our Holgas ready, and going out to shoot. Day 2 started with an introduction to processing film, which began with teaching how to roll film onto the reels – not an easy task! After everyone got their first rolls processed, we got into the darkroom and made contact sheets. Again, more basics such as how to use an enlarger, what those funny numbers on the lens are, and the fact that photo paper should not be opened up in room light!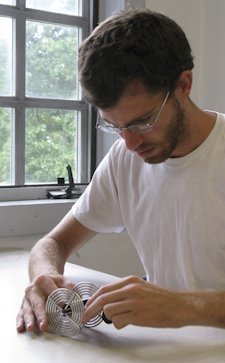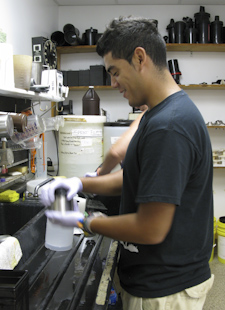 Learning to roll film on reels, and processing film.
On Wed, I talked more about ways to shoot the camera, and then we started making prints! All of this from square one. By the end of three days of talking, I was a little fried, but satisfied that now the students would be able to keep shooting, processing and printing, gaining knowledge and confidence with guidance as they work. And I'm super-thankful to my studio assistant, Courtney, who helped get everyone up to speed.
The last couple of days we've taken shooting field trips to local towns and a little carnival, kept going in the darkroom, learning more about exposures, contrast adjustments, burning and dodging, and started doing class work reviews. All the while, I've tried to make it to the instructor (and studio assistant) slideshows each evening, in addition to instructor gatherings and the like.
Now that things have calmed down, we've had some time to start visiting the other studios, which is a major social pastime and method for cross-fertilization and collaborations here. And, finally, we made it to the yoga classes that happen every day right above out studio. I'm hoping I can make it to the rest of them (the afternoon ones, anyhow; I'm not too useful at 7am).
My students are starting to generate some interesting images, and I'm really looking forward to seeing what they come up with. With so many ways to focus, I'm sure some will work on their shooting subject matter, while some will concentrate on improving their printing skills. I still have some new information and techniques to introduce during the second week, just to keep things interesting!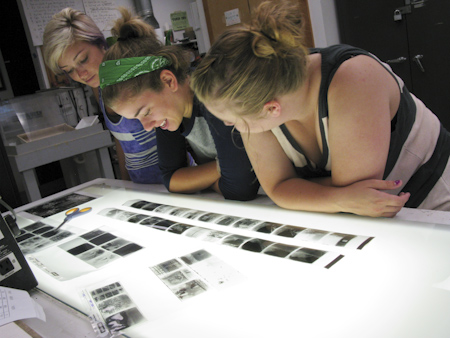 Reviewing negatives on the light table.
I'm very thankful to have the opportunity to be here, and encourage everyone to check it out and make the trek here if you have an interest in any of the crafts they teach! More to come after the workshop, and I'll get photos of the class posted soon as well!
~Michelle