06.15.09
New York in the Spring!
I'm always looking for an excuse to visit New York, where my family is based (thanks, guys!), so I thought I'd take advantage of the New York Photo Festival in May to finally get some good weather time.
The trip began with Jennifer Loomis' book release party for her new collection: "Portraits of Pregnancy: The Birth of a Mother." I was at the Seattle party a couple of days earlier, which was a great collection of friends, clients, and at least 8 pregnant women, several whose bellies had been hennaed in beautiful patterns. At both parties, women who are in the book talked about their experiences as moms and being photographed by Jen, and read their quotes. They were all quite moving. I'm honored to be part of Jen's team (I photograph the pregnant moms and families as well) and to make these women and their families feel and look beautiful. Look for Jen on Entertainment Tonight! The book makes a great gift for moms-to-be!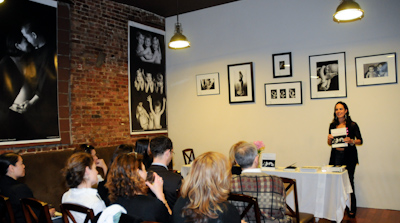 Jen introducing her book to the crowd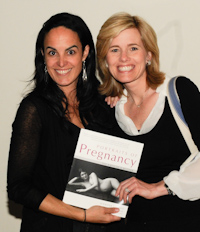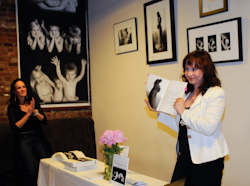 Two of the moms in the book read their stories.
New York Photo Festival takes place in the DUMBO section of Brooklyn, which I hadn't been to before, but enjoyed checking out, and shooting photos of both the looming bridges. The opening party was a madhouse, but I did manage to run into a few people I know. The highlight though, was running into Doug Wolske, who I'd met at the Krappy Kamera show a year ago, and who introduced me to Nick Dangerfield, of Superheadz (and Powershovel), the Japanese company that is creating new and innovative toy cameras to an adoring worldwide audience. The Blackbird, Fly and Golden Half are their latest hits, and I'm looking forward to including them in the new edition of my book. There were two huge tables covered with all the toys – yes, I was drooling!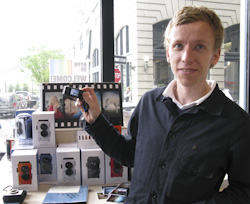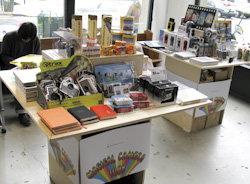 Nick Dangerfield and all the Superheadz toys at NY Photo Festival at Powerhouse Arena in DUMBO
The next day, I attended a talk by Brigitte Grignet, one of my favorite photographers. Yes, she uses a Holga, but her work definitely transcends being defined as plastic camera work – I hold her up as a model for all Holga shooters!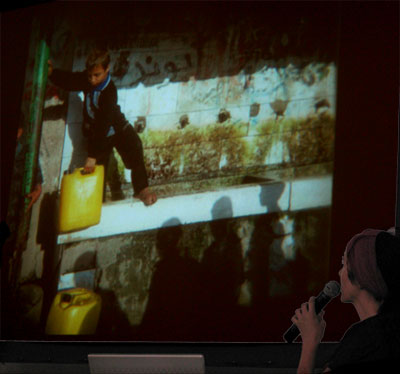 Brigitte Grignet speaking at NY Photo Festival
One of my favorite exhibitions wasn't associated with the festival, but knocked my socks off – The Photographer: Into War-Torn Afghanistan with Doctors Without Borders at VII. Didier Lefèvre was a photojournalist who covered Afghanistan, among other places, for Doctors Without Borders. His adventures, and they are as wild as you can imagine, are documented in this exhibition and book, which is a graphic novel, with drawings interspersed with photos and even the contact sheets, giving amazing context and insight into the world of the photojournalist and the background behind the images we see. Stunning!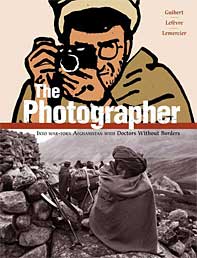 Festival highlights: Tim Heatherington's installation showing photos of sleeping soldiers alongside scenes of the war they experience during the day. A collection of Ernst Haas' unseen color works: while horribly presented (shame on NYPF), it's always educational to see through the eyes of a master. A computer-generated virtual walk-through of the original presentation of the Family of Man exhibition at MOMA in 1955. While I didn't spend as much time at this festival as I could have (even I need a break sometimes!), it was nice to have a gathering of photo folks in the New York area, and I might have to use it as an excuse to come east in the spring next year.
Also visited ICP and ogled Avedon's fashion photos, several Chelsea galleries that I like to check in with (and a new favorite, Michael Mazzeo Gallery), caught a matinee of Hair! (I *love* Hair!), a Bindlestiff Family Cirkus cabaret, caught up with family and a few friends (not everyone though!), and took a few photos. Too much to do in NY!
Now, home to catch up, and looking ahead to Pittsburgh!