05.19.09
I recently took two fun-filled photo trips to Portland, OR, Seattle's very hip neighbor to the south. I've been discovering more and more great things about Portland lately, so love any excuse to go there, especially when I can combine it with photo happenings.
The first was Photolucida, a 4-day portfolio review gathering. These events, if you don't know, bring together people in the photo world who work with photographers, and love the chance to view work: gallery owners, museum curators, magazine and book publishers, etc. The photographers pay to have the chance for 20-minute one-on-one meetings with top names in the industry from around the world. And outside of the 18 or so reviews we get, the rest of the time everyone's mixing it up, showing each other work informally, talking shop, gallery-hopping, drinking, and having a good ole time. If you're a social type (hmm, am I?), it's a blast. (The biggie portfolio review is FotoFest, in Houston, and they've proliferated around the world).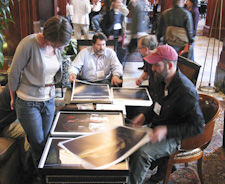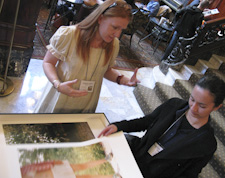 Viewing prints informally in the lobby at Photolucida 2009
I went to this event many years ago, when it was called Photo Americas, when I was too young and scared to follow up on any of the connections I made. Two years ago though (PhotoLucida, like FotoFest, runs every other year), I went, my book in hand, hot off the presses, and all sorts of great things came of it. So, I was there with bells on, not only to show of my work, but to see what other people were doing with toy cameras.
Also part of the event is a public portfolio walk, where all the 160 photographers lay out their work (in 3 1-hour shifts), for everyone, public included, to see. In the reviews, it's really interesting to see what different reviewers respond to. Showing 3 series, my classic quirky Holga photos, and Holga series Urban Oases and nature photos, each reviewer glossed over one or two and preferred another, and all three series had their champions. So far, I have lined up a show at Camerawork Gallery in Portland, and some other possibilities are out there as well, if I'm home long enough to do my follow-up!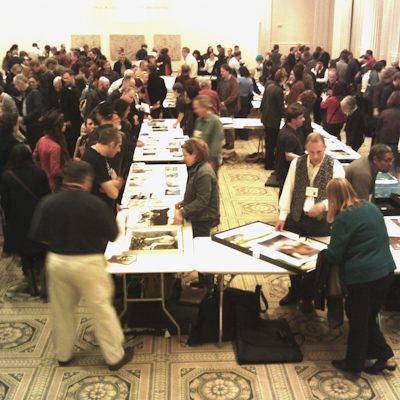 Portfolio walk at Photolucida, at the Portland Art Museum (taken with the Rollei MiniDigi) – this is about 1/3 of the room!
Outside of the reviews, I had the great pleasure of attending a lecture by Abelardo Morell, whose work I adore (and I don't say that about many photographers) at the Portland Art Museum. I also attending the opening of an exhibition celebrating Paul Dahlquist's 80th birthday, and later had a blast visiting him at his home, and talking photography in way you don't find too much anymore – his camera is likely older than I am, so it was about the images, not the equipment. What a joyous soul! At the closing party, I met Craig Strong, the inventor of the Lensbaby. I've met the rest of the crew, and been to their HQ (which is much humbler than that makes it sound), but it was fun to hear the story of how Lensbaby came to be, and he answered a long-standing question I've had about Holga optics!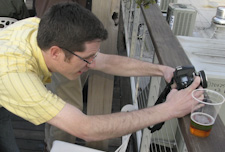 Paul Dahlquist & Audrey Daniel, Craig Strong shooting his pinhole Lensbaby on World Pinhole Day, at the Photolucida 2009 closing party
My favorite moment of the event though was centered around my Rollei MiniDigi, "The Cutest Camera in the World" (says I). Someone mentioned the existence of the Baby Rollei, which I had never heard of, which takes 127 film, and is a slightly smaller version of the classic 120 Rolleiflex. And, being amongst a gaggle of camera geeks, in the blink of an eye, there we had on the table a 120 Rolleiflex, a beautiful Baby Rollei, and the real baby, the MiniDigi – the whole family! I'm sure I remember it bringing a tear to my eye… (or that could have been from talking for four days straight…). And did I mention I'm now selling them?
All in all, it was a fantastic time of being around people who love photography, whether in their 1st or 60th year of making or appreciating images.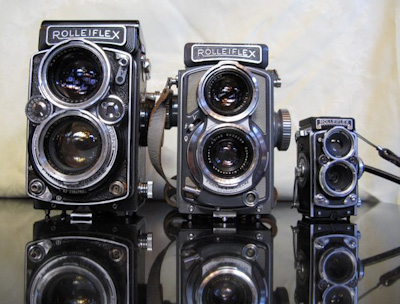 Papa Rolleiflex, Mama "Baby Rollei", wee Rollei MiniDigi. Photo by Colleen Mullins
The following weekend, I returned to Portland to teach, once again, at Newspace Photo, a great darkroom, gallery and school. My plastic camera class was enthusiastic, once again including a parent-child pair, and learned a lot. As usual, they wished for more time, and I'm scheming for ways to give longer workshops for people who want to explore shooting, processing & printing (I'm doing a two-week class this summer!).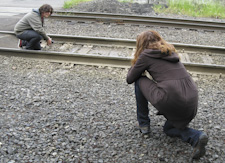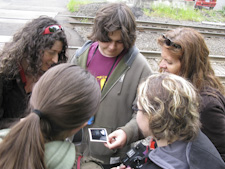 Shooting Holgas in the field. Looking at a Fuji instant film Holga photo
In addition to all the photo stuff, I attended Nanda's show at Bamboo Grove, a bizarre weekly event called Sinferno, and the fantabulous Alice in Wonderland by Wanderlust Circus – this was worth either or both trips all by itself! Visited friends, took in the local scene; ah Portland, I'm falling for your many charms…