03.11.09
Last summer, it all seemed like a dream: I finally got the call (OK, a message through Flickr) from the mysterious company, tucked away somewhere far to the east in Hong Kong, that churns out Holga cameras for an audience that I assumed was somewhat baffling to them. It took a while to sort out that this was indeed the real deal, with various company names, including Universal Electronics, and Tokina Corperation (but not the Japanese lens-makers) confusing the issue.
After a while though, I came to get the scoop, that Tokina got the perfect person on board to start making the connections with their huge fan base worldwide, one Christine So. As written about elsewhere in this blog, Christine and I had a bang-up week in New York last fall, bouncing ideas off each other at a furious pace, and talking with everyone in the photo world, all congregated in NY for Photo Plus Expo, about Holgas.
The first pieces of the company's coming out are now in place: a new name for the Holga wing: Holga Limited, and a new website and association: Holga Inspire. Check out the site, which has started out with portfolios by several photographers (including me!), resources, listing of news (their sponsorship of the Krappy Kamera show, up now in NYC), and some history about the company. Lots more content will be coming soon, to be sure!
I'm thrilled that Holga Ltd and Holga Inspire are out in the world now, that we have the chance to meet them and tell them how much we love their products (and what we'd like to see), and they can appreciate what we're doing with Holgas. It's a win-win!
I'm inspired!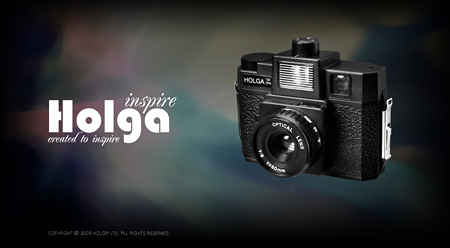 ~Michelle