10.06.08
It arrived! It arrived!
My box of goodies from Holga Headquarters in Hong Kong!
I sent out an email to some photo buddies, and we had a nice little group for the unveiling, which consisted of opening boxes within boxes, all labeled with cryptic Holga inscriptions.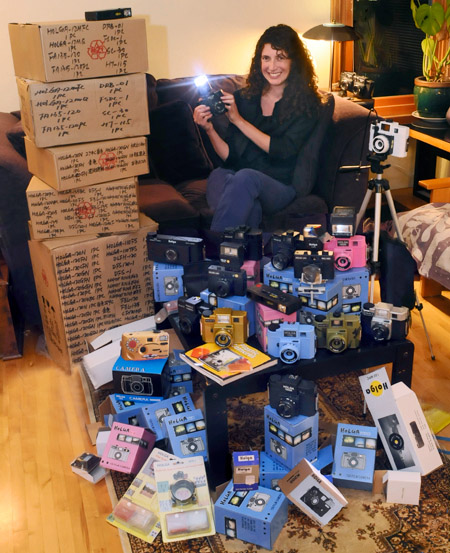 Michelle in Holga Heaven! photo by Michael Craft
The stash included fifteen 120 Holgas – 120Ns, 120FNs, 120CFNs, in the plastic and glass-lensed versions, AND all in their new colored versions as well! Also, a 120 pinhole and the one I'd really been waiting for – the Pinhole Wide Holga, which is a bizarre-looking contraption. Whew! Add into that three 35mm Holgas (including a pinhole one). Then, a couple of 110 cameras, which kind of gave me flashbacks to my childhood cameras. One last camera is the strange little Meow camera, which doesn't just shoot on 35mm film, but it actually meows!
Then onto the accessories: the sets of filters, for use on Holgas and on other cameras, fish-eye lenses, the cable release I love so much, a changing bag, and even a tripod (which weighs all of twice as much as a Holga, giving a combo that totals less than a pound and a half)! We spent hours swapping around the Holgas with my Canon & Nikon digitals – it was tons of fun!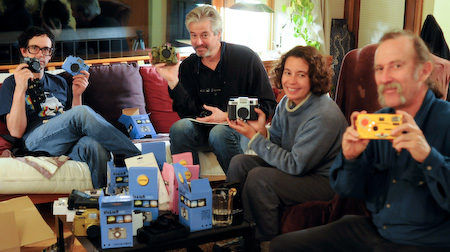 The Holga Assistants: Corey Scherrer, Michael Craft, Annett Mateo, Tim Furst
Thanks Holga & Tokina!
~Michelle