07.06.08
Mmm, mmm. I finally came around, and have taught my first workshop at the Maine Media Workshops, where I got my start back when it was called the Maine Photographic Workshops. The class was "Toying with Plastic Cameras" (are you detecting a theme here?), but it was quite different in some ways than the ones I've done before. This time around, we had 5 1/2 days, and it wasn't just me talking the whole time. At MMW, students really get to explore trying things, making photographs, and in our case, getting down and dirty in the darkroom.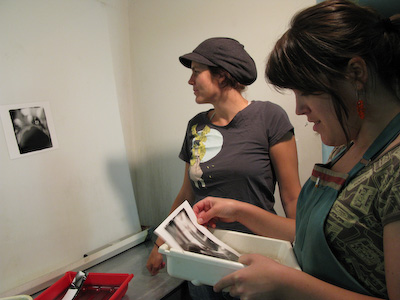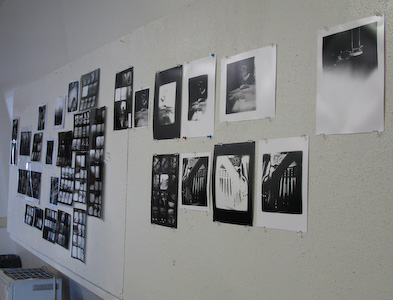 Looking at prints, in the darkroom and in the classroom
It started off like any other class, with me lecturing and showing lots of images. Everyone got Holgas, we taped them up and went out to play. Then we got into processing their own film, making contact sheets, and printing. So, after we did sessions in the studio (with strobe lights and all), at night, at Elmer's Antiques, and in Rockland, everyone ran back to the darkroom to soup their film and see what they got. They tried new shooting techniques, upped their darkroom skills and knowledge, learned to love their Holgas, and by all accounts had a great time. Amazing how a week can seem so short!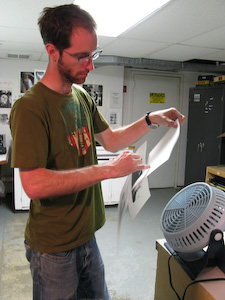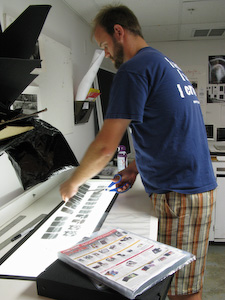 Drying Prints and Clipping Holga negatives
I too had a fantastic time! We had our classroom in Union Hall, the wonderfully rickety old building where I spent most of my time in 1991, with a fabulous view of the harbor. I gave a public talk during the week, showing my images on that same wall where I was awed by the work of so many greats, when I was a total novice.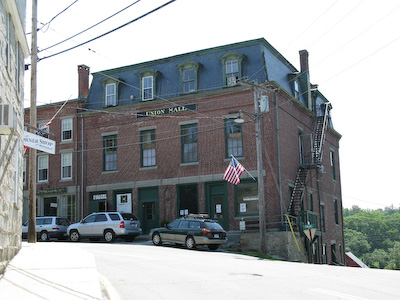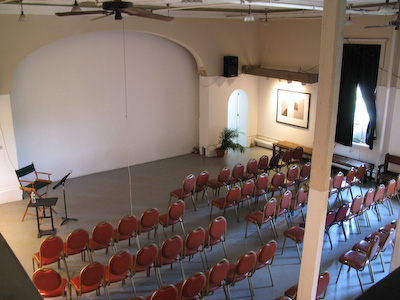 Union Hall – imagine me in the chair, my photos on the wall, and the room full of people
It was just a great week all in all, and I hope to return to Maine again (and again…).
~Michelle