06.16.08
My latest trip was down the coast in northern California. I'm part of an exhibition of photographs of the Burning Man festival, which takes place every year in the Black Rock Desert in Nevada. I applied for this show, 21 Days of Black Rock City, and was awarded not only a spot in the exhibition, but a residency in Berkeley where I made all the large-format digital prints and mounted them. The Creator's Equity Foundation and Joshua Reichek organized the residency and show. Once I finished the prints, back in February, all I needed to do was show up for the opening, which, of course, was easier said than done, counting in transmission trouble and last-minute flights.
A whole bunch of people made their way to Petaluma (the land of no cell-phone service that even confounds car GPS systems) on a lovely afternoon for the opening on June 1st. The venue is the Marin French Cheese Factory, where cheese is king, but somehow they ended up with a huge empty building for a gorgeous gallery show. The location is also stunning.
The 21 Days of Black Rock City refers to a time-lapse film of the Burning Man festival building up and coming down, on three big fancy screens. Great technology! But the rest of the room is covered with dozens of large prints – up to 40″ x 60″ by 9 photographers: Me; Jason Day; Matt Freedman (a friend of mine from Seattle who I told about the show); Richard Gilmore; Marcel Peelen; Mary Rachel Reynolds; Philip Solomonson; John W. Tucker, Jr; and Joshua Weaver; (along with Lisa Benham, Tony Garcia, and Tom Price from Burners without Borders). These are really stunning. The print quality is fantastic, the mounting and hanging are great, and, surprisingly, the lighting is perfect. I've hung many shows in my years running galleries, and I know how hard it is, especially with big art. But they got top-notch lights and everything really pops. The opening was also catered with delicious food, wine and, of course, cheese.
I had a great bunch of people show up: old friends of mine and Matt's, in from around the country, a posse of Chautauquans, straight from Utah Phillips' memorial service in Nevada City, and various friends who live in the Bay Area. Topped off with a dinner for the artists (and friends), it was a glorious day!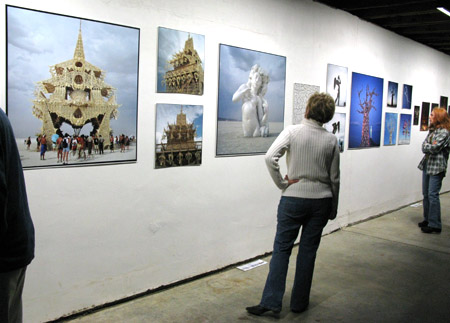 My photos, taken with a Mamiya 6 medium format film camera (I scanned the negatives to make these digital prints)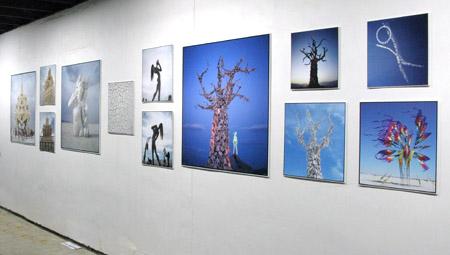 My fire photos, shot on film with Nikons and scanned
More photos as I get a hold of them.
The exhibition is up through August 3rd, generally open Fri-Sun, 1-5. Check the website for more details or to arrange an appointment at other times.
~Michelle