05.27.08
My latest trip was down south to the fabulous city of New Orleans. It was much quicker getting there this time – just a couple of flights, as opposed to the six-day drive I took in 2006. When I was there last, it was with the New Old Time Chautauqua's Jambalaya Tour, which I photographed, then spent another week and a half in the city, helping out with Emergency Communities while editing my book, in a city in shambles. It was quite the experience.
This time was a little different, but also very fulfilling. I was contacted earlier this year by the New Orleans Photo Alliance about jurying their "Toy Stories" plastic camera exhibition. Since I was already committed to the Foundry show (happening at about the same time), I couldn't be the juror, but I suggested that they have me down to teach a workshop. Actually, I'd been meaning to contact whoever in NOLA ran workshops, so I could come down and see all my friends there; they just got to me first. They loved the idea, and so did the ASMP Foundation, which gave us grant to help fund the class.
So, I had a fabulous 6-day trip filled with seeing friends, teaching, meeting all the great New Orleans photo folks, checking out the state the city's in these days, eating good food, seeing local music and theater, visiting Bay St Louis, Mississippi, where the Chautauqua tour was based, biking around the nice flat streets, enjoying the hot weather (and thunderstorms!), visiting my favorite photography gallery, wandering the French Quarter, going to an opening including my photos, and more…
The workshop was just perfect. The New Orleans Photo Alliance is a great organization that is representative of the way community often comes together as a result of tragedy. In a couple of short years, they've already started a gallery space, started sponsoring workshops, and instituted Photo NOLA, a month of photography fun including portfolio reviews each December. I'm very excited to be plugged in with them and hope to play more in the future!
The class started with the lecture portion, which was free and open to the public. We had a lovely crowd to see the photos and hear me talk, and a few even signed up to stay on for the rest of the class. In the afternoon we all played with our Holgas, and went out shooting. Sunday we reviewed the results.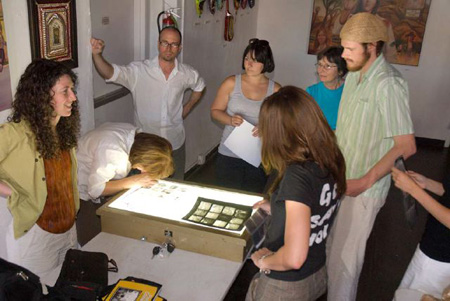 .
photo by Bryce Lankard, who also organized the workshop – thanks Bryce!
It was a wonderful group, with several veteran photographers, a couple of total novices, and the rest in between, with varying experience levels with film and digital photography – a perfect mix. I hope they continue to meet, look at images, and support and learn from each other (and send me photos!).
The workshop took places at The Big Top, a cool multi-purpose space with a circus bent (although I didn't get to experience it), which makes me happy.
Before I got to NOLA, I entered and was accepted into an exhibition at the New Orleans Darkroom, called Abstractions in the Landscape. The opening was the Saturday night while I was there (conveniently enough), so after class, we all went over for the party. As usual at fun photo events, I wore my adorable little Rollei MiniDigi camera, which was a great ice-breaker. One person I met was the juror for that show, Sandra Russell Clark, who happens to live in Bay St Louis. So, on my trip to visit there, we met up and had a lovely evening on the beach with a bunch of folks – beautiful!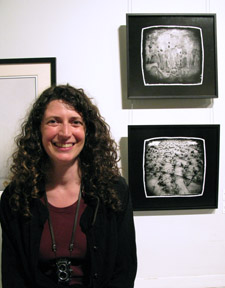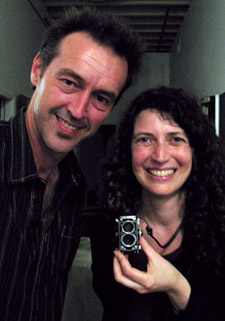 At The Darkroom opening with Bryce Lankard, my photos, and the Cutest Camera in the Whole World
Rounding out the trip, I checked out Bay St Louis, which got pretty well smashed by Katrina, and is now a mix of a few ruined houses left, empty lots, FEMA trailers, houses under construction, and some houses already complete. These range from small, subtle homes to huge mansions (which used to line the coast), with some interesting ones thrown in, like the round concrete house, my favorite. Everything is up on high stilts (around 10′), which I assume is supposed to keep them from flooding next time, but to me it looks like they're ripe to be pushed over by the next strong wind. Good luck with the rest of the rebuilding, Mississippi!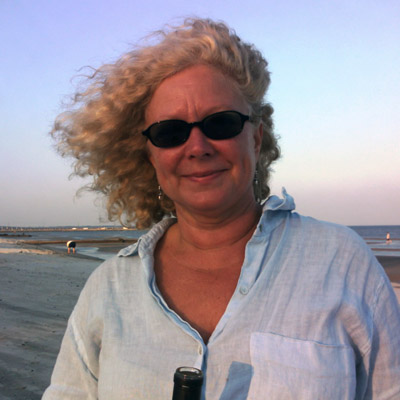 Sandra Clark in Bay St Louis, taken with the Rollei MiniDigi
I also met up with Jennifer Shaw, a fantastic Holga photographer based in New Orleans. She has a fantastic series of work based on her experience of evacuating from Katrina and giving birth – it's a great story!
OK, that's the report! I'll try to post more photos from the trip soon.
~Michelle