03.25.08
March 1st started off the month with an interesting and fun photo day. I taught the second half of my photo workshop at the Photographic Center Northwest in Seattle, with a great group of students. Right after that, I buzzed my little van up north to Bellingham, where I was part of a panel of 6 photographers out of the 9 in the Whatcom Museum's Photo Biennial. There was a large crowd (50 people, perhaps more?), and Scott Wallin led the discussion. It was great to hear the other photogs talk about their work, as we all sat surrounded by it. It's really a cool show, with 9 full shows in a great space. It's up until April 27th, so check it out (and I'm teaching a workshop there on April 26th).
The next day, I zipped back to Seattle, and then east to NYC for the opening of the Krappy Kamera show at Soho Photo Gallery. I've heard about this one for years, but had never made it there for the show (March isn't really my favorite time to visit…). But winning first prize was very exciting, so I set up to give a talk, let the friends and family know I was coming, and off I flew. The opening night was jam packed! Toy camera mecca! Lots of cool photographs in all 3 sections; the front for members of the coop, the back for those chosen to be in the competition show, and the upstairs for all the other entries that weren't selected, hung in an endless collage.
A couple of nights later I gave a talk at the gallery, which was fun as usual, with a nice group of about 25.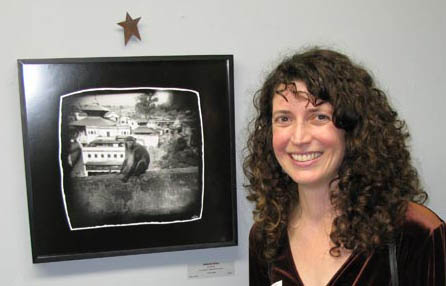 Me with my prize-winning Monkey. Look – I got a star!


The Krappy Kamera Competition, 2008 at Soho Photo. click on image for a larger version
This past week I was in Denver for the national Society for Photographic Education conference. I've enjoyed this conference the last 3 times I've been, but this was definitely the best. The hotel was set up very nicely, and located on a pedestrian street, so we could actually get out and eat and shop and enjoy the town a little. The theme and presentations were great, I had some friends to hang out with, and made some great new connections and contacts. For anyone who's wondering how to get your work out there in the world, I can't emphasize enough how great these events are for making things happen!
A new article just came out in The Independent, a London newspaper, about the toy camera craze, and features a new image of mine, taken last summer in Glacier National Park in Montana (during the Chautauqua tour), with more images of mine and by others (click on the goat).
This Friday I take off again for St Charles, MO, for th "Unrefined Light" exhibition, which I juried, at the Foundry Art Center. Right after I land, I'll get whisked off to the gallery, where I get to choose the winners (with some big prizes!) before the opening. They're expecting a huge crowd, and I'm really looking forward to it! Teaching a full workshop of serious toy camera enthusiasts all weekend – yipee!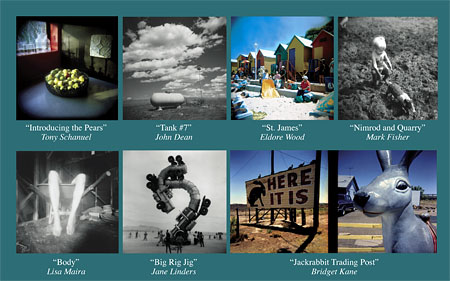 The postcard for the "Unrefined Light" show. Click on the image for a larger version and the backside
More talks and workshops coming up in Seattle, New Orleans, Minneapolis and Maine – check out the rest of the site for details.
~Michelle