01.31.08
The most exciting news of the year (young as it is…) is that an image of mine has taken First Place in the Krappy Kamera competition! This show, out of Soho Photo in New York, is the oldest and biggest of the toy camera shows. I'm thrilled to be a part of it, and catching first place is beyond exciting! The opening is Tuesday, March 4th, and I'm planning to come over for it. I'll also be giving a talk there on Thursday, March 6th, at 7:00 (and selling books). Stop in if you're in the neighborhood!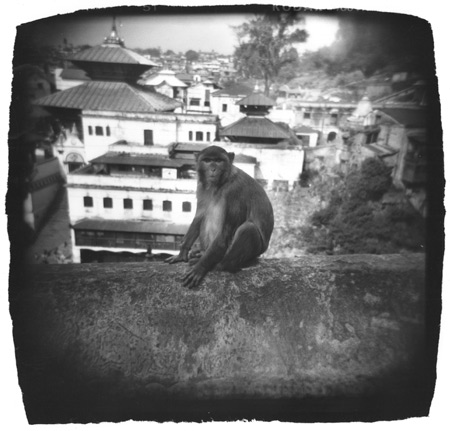 A monkey blows me a kiss at Pashupatinath in Nepal, November 2007
I actually got the call for that while I was at the opening of Rayko Photo's Plastic Camera show in San Francisco – it was so fun to be amongst the toy camera throngs! That show had lots of good work, and an entire separate show by Veronika Lukasova, of panoramic Holga images – great work!
I've also arranged to give a talk at Foto-Grafix Books, which is downstairs from SF Camerawork, and around the corner from SF MOMA. That's on February 7th, at 7:00. There's also a community event after my talk, where you can show slides and everyone gives feedback. Sounds like fun!
And, I've just set up a talk in Seattle at the University Bookstore, a great venue, on April 17th.
Reporting back from earlier in January, the printing session was fun! Once the technical issues got smoothed out, seeing those enormous prints rolling out of the printer was thrilling! I can't wait for the show; I wonder when it will be?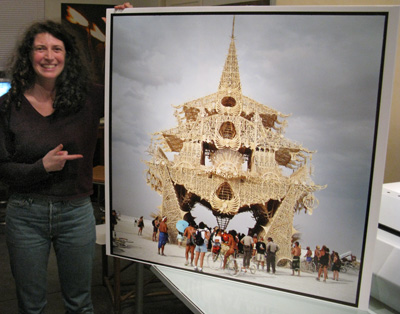 Me with my 40″ x 40″ of the Temple of Joy, a creation of David Best at Burning Man, 2002.
More soon!
~Michelle