10.11.07
A friend from Vashon Island, where we have a lovely photography group, Photographers of Vashon, just gifted me a pristine copy of "The Diana Show," which is the first compilation of toy camera images (all Diana camera – this was before the Holga), published in 1980, and a rare classic. How thrilling! Someone else on Vashon gave me a Diana camera several years ago. Both of these are worth some money, and this kind of thing just warms my heart. And now I'm dragging these things all over the country to show my students, so the more complete my collection, the better!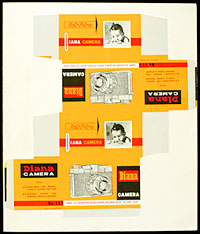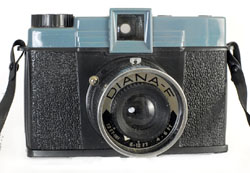 I just got to my East coast base in New Jersey for a couple of weeks of New York fun in the photography scene.
Monday, October 15th is the Lucie Awards. Everyone else has awards, why not photography? And this one actually gets the photographers out on the town and dressed up! Then is Photo Plus Expo, Oct 18-20 at the Javitz Center. I've been going to this for over 15 years, through various names and changes in the event. But it's still a great event to play with the new toys, see presentations by many fabulous photographers, ask questions of the companies, pay too much for seminars, carry too much paper, do the old name-tag-scan when meeting people, and having fun talking shop. And let's not forget the parties, if you can find them and get in the door… I'll be signing books at Freestyle's booth (number 1927, listed as FS Wholesale) on Thursday at 2:30.
Oh, and there's that workshop thing I'll be teaching this weekend and next at ICP. OK, actually, it's a big deal! And very exciting! I hope I'll be able to come back and teach one open to the public (this one's for the General Studies Students) in the spring. And my newest Holga discovery, Brigitte Grignet, is going to be floating around ICP during my class. I'm going to have to kidnap her and show her off to my students, "Here before you is a brilliant photographer who happens to use a Holga!"
Of course, while in NY, I'll try to squeeze in some museums, lots of galleries, shows, friends and family! It seems as the years go by (I've now been in Seattle for 15 years!), I know more and more people in New York. Not quite sure how that works, but it keeps me busy when I'm here!
It just so happens that it's Clown month here in NY! Not circus-type clowns, but theater clowns, which I love! There's a whole festival in Brooklyn, the New York Theater Clown Festival, at The Brick, and even someone I know doing a show! Nina Rolle was in an UMO show I photographed years ago; I can't wait to see what she's cooked up for this! And a favorite performer of mine, Avner the Eccentric, is doing a full-length show at Ramopo College in Mahwah this Saturday night. I'm hoping I can get to see that, in between everything else.
If anyone's around for Photo Plus and wants to meet up, just get in touch!
~Michelle