03.01.07
So, all the hard work paid off, and Los Angeles was a blast! The exhibition looks fabulous; Freestyle really went to town on it!
The opening was a little slow – believe it or not, it *rained* that evening, which apparently freaks Los Angelinos out. But many folks came and enjoyed the work, bought books, and introduced themselves. Fun!
The talk on Saturday was just perfect. 46 people had signed up (including a long waiting list), and the crowd was standing room only. It was a really great captive audience, who watched and listened to my presentation, asked great questions, and had me sign books.
I also lucked out to be in town for the opening party of the Julia Dean Workshops' new space, right on the beach in Venice, and am talking with them about teaching for their next session.
While I was in LA, had to play tourist just a little; went to the La Brea Tar Pits (I remember that from when I was young…) and the Getty, trotted down Rodeo Drive (which was much easier to swallow at night, when all the stores were closed and the ridiculously expensive jewelry gone from the windows), and experienced hellish LA traffic. The best part was the spectacular view from the Getty; I've never seen LA from up high before.
Next, gearing up for the Society for Photographic Education conference in Miami in a couple of weeks.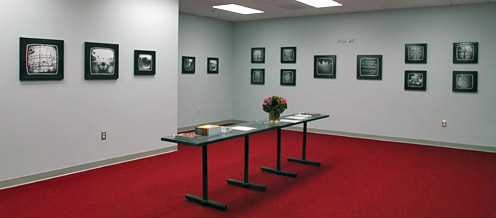 This is about 1/2 of the show, at the Creative Center for Photography, at Freestyle's Hollywood store.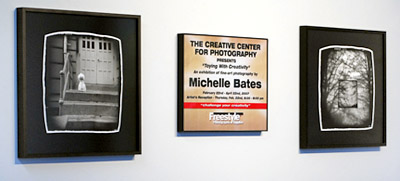 This view greets visitors as they enter the store.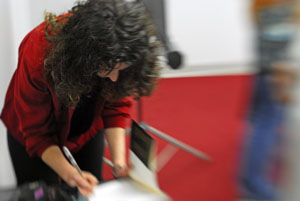 Me signing books after the talk. Lensbaby photo by Jer.
~Michelle